Peterhead Road Gritting, Winter Maintenance & Ice Removal Services
Peterhead Gritting Services provide clients with winter maintenance solutions throughout Peterhead and North East Scotland covering a range of snow clearance and salt gritting services. The aim of winter maintenance is to work reactively and proactively with clients as required providing services on snow clearance and salt gritting of fire exits, pedestrian walks, access roads and car parks.
Contact us for road gritting in the following areas of North East Scotland:
Peterhead / Cruden Bay / Inverurie / Dyce / Aberdeen / Westhill / Stonehaven / Montrose / Forfar / Arbroath / Dundee
The snow clearance and winter gritting services are also flexible so that they meet the business requirements as you can go for proactive and planned winter maintenance solution or even make use of a reactive resource. The service is of benefit for private estates, retail parks, private roads and residential homeowners.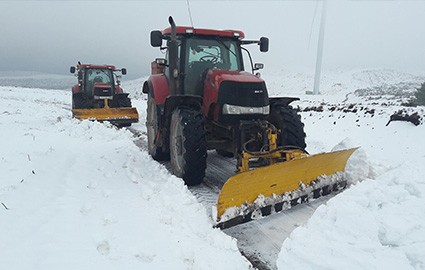 Our winter maintenance services include:
Snow clearance

Road Gritting

Postcode Specific Weather Monitoring

Pedestrian machines and vehicle mounted

Full Public Liability Insurance 24/7 Service

Salt spreading and gritting

GPS tracked vehicles

PDA Photographs of completed work

Call 01569 668 110 today for road gritting services in Peterhead and North East Scotland.
The UK Health and Safety At Work Act says that employers should make sure that any person who can be affected by the business and employees should be kept safe and should not be harmed and their health needs to be protected all through. This, therefore, translates that trips and slips risks should be maximally controlled to make sure no one falls, trips or slips.
Schools
Care homes
Private residential
Apartment blocks
Industrial
Retail
Main contractors and facilities managers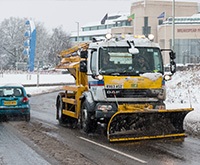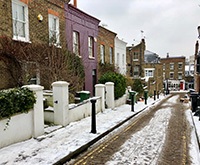 Don't allow your workers or customers to slip or fall this winter; make a point of contacting our company for car park gritting and private road gritting.
Road Gritting Services
We offer road gritting and ice management services to keep your business free from accidents. If you are a business owner, you are responsible for ice clearance. Below are aspects of winter maintenance that you need to observe.
It is important to clear ice and snow from steep pathways and steps, and in such cases, you could use salt for clearing the ice.

Don't use hot water; use sand or salt. Water melts the snow, but it may refreeze and turn into black ice and increase the risks of injury.

If you have used water and the ice has refrozen, you can consider melting the snow or prevent spreading of the ice by spreading of salt on cleared area.

The salt could be dishwasher salt or ordinary table salt; use one tablespoon every square metre. Avoid removing salt from salting bins as they are only to be used on public roads. For further advice on local road salting, contact your local council.

While spreading the salt, do it so that it does not reach grass or plants to avoid damaging them. If the salt you have is not enough, use ash or sand which will not only stop the ice but also offer good underfoot grip.

These are some ways to avoid slips on your property. To ensure that the ice removal is completed professionally, it is advisable to contact a winter maintenance specialist. We can provide salt and refill grit bins. We can also offer road gritting contractor services.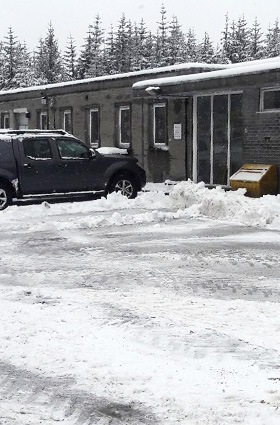 Safe Access for Businesses in Winter
As described in the Occupiers Liability Act of 1957, the business regulations and law are clear that the private landowner should ensure safe access by visitors and staff.
Maintain the business reputation and reduce risks of accidents by gritting the site prior to ice formation and maintaining an accurate log indicating each activity. Also, the Safety and Health Act and workplace regulation require that floors are not slippery. Our winter maintenance services include:
Removing the risk of falls and slips caused by ice and snow

Using grit salt to prevent black ice formation

Gritting roads before snow and ice fall

Laying enough salt to be effective

Ensuring the snow which we clear does not block paths or drains

Refilling grit and salt bins for local use

Providing photographic evidence of cleared areas, emailed to the client

Moving the fresh snow is easier compared to the hard snow which has been compacted by pedestrian activity. Therefore we endeavour to remove as much snow and ice as possible before leaving the sun to melt the remaining snow. Before nightfall, we cover those paths using salt to avoid overnight refreezing. If you need professional assistance with winter maintenance in Peterhead and North East Scotland, please call Peterhead Gritting Services today. Do you need to find out more about Winter Maintenance and ice removal? We offer road gritting, ice control and snow removal.
Are you looking for road gritting contractors in North Scotland? We offer private hire gritting, snow removal and winter maintenance for Aberdeen, Dundee and Peterhead.
Please visit the following sites for local road gritting in your area.